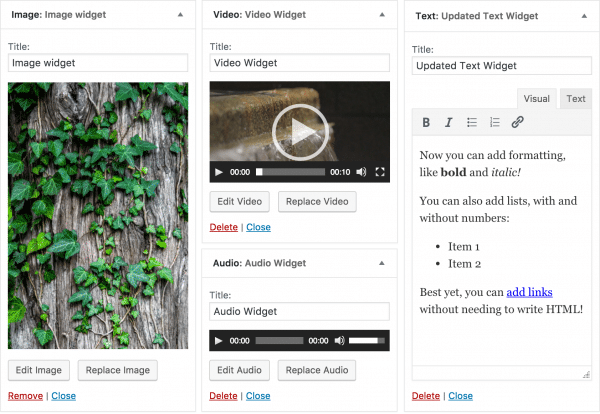 On June 8th, the WordPress team released their latest build of the CMS. Version 4.8, named "Evans" in honor of jazz pianist and composer William John "Bill" Evans, brings a few new features. Among these: new media widgets have been made available, a new feature named "Link Boundaries" will help you to manage links in the editor, some accessibility enhancements were made to the dashboard, new hooks and capabilities were added for WordPress Multisite and responsive breakpoints have been added to the customizer.
New "Media" Widgets
Three new widgets have been added and another one was updated. Furthermore, the Media Widgets API will allow developers to extend the media widgets and even create some of their own:
The three new media widgets are powered by a shared base class that covers most of the interactions with the media modal. That class also makes it easier to create new media widgets and paves the way for more to come.
For those who are interested, you can find more technical details about it here.
Image Widget
It's now easier than ever to insert images with a widget, thanks to the new image widget. Before WordPress 4.8, people had to insert HTML code inside the text widget in order to display an image in a sidebar, or to install a plugin allowing them to insert images more easily. The image widget is now part of WordPress core and inserting images using a widget can be done by anyone, without HTML knowledge.
Video Widget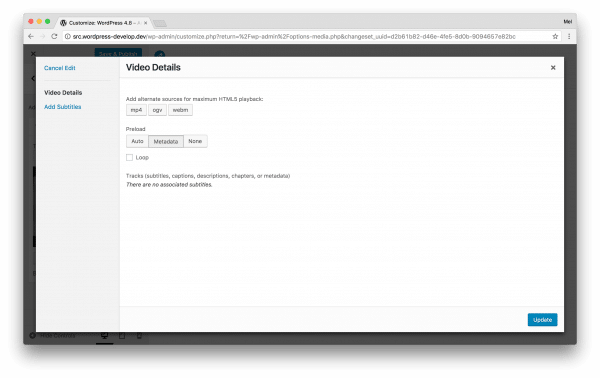 Now, WordPress users can insert videos from the Media Library in any sidebar with the help of the new Video Widget. Even better, this widget can also handle external sources, such as YouTube. By clicking on "Insert from URL", users can link directly to a video file, or embed videos from providers supporting oEmbed – as long as WordPress also supports these providers. It means any public videos from YouTube, Vimeo or DailyMotion can easily be inserted by pasting the link in the "Insert from URL" field, and WordPress will automatically take care of the rest. It's even possible to add subtitles to a video!
Audio Widget
The audio widget will come in handy for podcasters and musicians who want to share their work. Just like the video widget, this widget is quite flexible: an audio file can be inserted either from the Media Library or by directly linking to an audio file.
Rich Text Widget
The default text widget has also been updated and is now using the TinyMCE visual editor, which is the one WordPress has been using for years elsewhere in the CMS. It means that inserting links, applying bold or italic formatting and adding bullet/numbered lists can now be done without having to play with HTML code. More details are available here.
Discover the new "Link Boundaries" feature
Before WordPress 4.8, inserting links in a post was quite easy to do, but it caused frustration when trying to update a link or to change the text around it. Often, when adding text after the link, the new text ended up being linked as well – not necessarily the expected behavior. In other cases, text edited inside the link would end up outside of it. Never again. With link boundaries, the process is streamlined and managing your links will be frustration-free, as shown in this video:
Other changes included with WordPress 4.8
Apart from the new widgets and the link boundaries feature, WordPress 4.8 also comes with other changes and new features:
A "WordPress Events and News" widget has been added to the dashboard. It shows all upcoming WordCamps and official WordPress Meetups near your location.
A few changes were made to the Admin Panel Headings in order to improve the experience of users using assistive technologies. More details here.
Support for WMV and WMA files has been dropped: "As fewer and fewer browsers support Silverlight, file formats which require the presence of the Silverlight plugin are being removed from core support. Files will still display as a download link, but will no longer be embedded automatically." For those who still want to be able to embed these file formats, you might want to read this.
New capabilities were added for WordPress Multisite installs. Also, new hooks and tweaks have been added. These new hooks and capabilities are explained here.
New responsive breakpoints have been added to the customizer sidebar to make it wider on high-resolution screens. Again, those interested will find more details in this post.
WordPress 4.8 can be downloaded directly on WordPress.org website, or from the WordPress Dashboard.